Mazda Mazda5 Service Manuals
---
We are looking to find workshop/repair/service manuals for this car and will add them when we find them.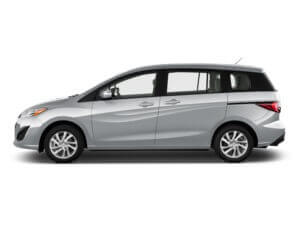 About The Mazda Mazda5
For its first generation, the Mazda5 was known as the Premacy, a compact MPV created by the Japanese automaker Mazda.
Mazda had intended for it to take over from the Capella wagon in 1999 and a model called the MPV that was as its name suggests, an MPV (minivan).
The first-generation model was built on the C platform that was shared with the compact Mazda 323.
A range of engines was available for the Premacy from 1.6-liters through to 2-liters with a turbodiesel option too.
Ford also released a rebadged version of the car called Ixion to the Asian market that was slightly lower priced.
Second Generation Mazda5
In 2004 Mazda launched the second generation Mazda5 to the auto market which was now built on the Ford C1 platform that was used underneath the Focus.
This new model was slightly larger than the last offering 7 seats across 3 rows in most places except for North America where it only seats 6.
In Europe, a similar vehicle was sold by Ford called the C-MAX and in Asia, the closest relative to the Mazda5 was the I-Max.
Third Generation Mazda5
The third-generation version of this car was built on a more specific platform that was used only on this model.
It was adapted from the previous chassis and customers now had the option of larger engines and a 6-speed automatic transmission.
The Mazda3 also uses an altered version of the same chassis but it's smaller as it is a compact car.
Discontinuation of the Mazda5
Eventually, the Mazda5 was discontinued in 2018 as the minivan market continues to decline.
Mazda now offers the CX-5 compact crossover SUV in its place as a family-friendly car with ample room inside of it.
Common Problems With The Mazda5
Shock absorbers – the rear shock absorbers are prone to failure in the Mazda5, this will be evident in a rougher ride and leakage from the parts being visible
DPF – an annoyance for many diesel engine owners is the DPF clogging up and not being flushed out when the car is driven on short journeys only
Suspension – the suspensions arms and the bushes around them can be faulty though luckily replacements aren't expensive