Mazda Mazda3 Service Manuals
---
You can find 1 different repair/service/workshop manuals for the Mazda Mazda3 on this page that are in the PDF format, totally free of charge.
Yearly Mazda3 Service Manuals
The years available stretch from 2005 through to 2005 and to view the manual you just click the name.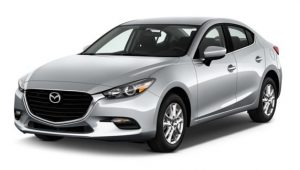 About The Mazda Mazda3
The Mazda3 is a compact car that replaced the 323/Familia/Protege line of compact cars in 2003.
For 16 years the line was also known as the Axela in Asia before they adopted the universal "3" name going forward.
Alongside this model is the Mazdaspeed3 performance-orientated version introduced for the first time in 2009.
This Mazdaspeed3 is classed as a sport compact hatchback and is powered by a 2.3-liter turbocharged engine.
Putting this power to the ground is done through a limited-slip differential and 6-speed manual transmission to the front wheels.
The standard version of the Mazda3 also went into its second generation in 2009 and embraced the Japanese automaker's Skyactiv technologies.
It shared many of its environmentally friendly engines with the larger Mazda5 and Mazda6 models including a larger range of diesel engines compared to before.
All of these examples of the first and second-generation Mazda3s were built on the same platform as the Ford Focus.
Going into the third generation the car was moved over to an in-house developed chassis that this shared with the compact crossover SUV the CX-5.
In 2013 a hybrid version of the car was introduced for the 2014 model year and featured a 2-liter gasoline engine and electric motor combination that captured lost energy during braking.
2019 saw the release of the fourth-generation Mazda3 with only subtle changes to the styling and mild improvements to fuel economy.
For the 2021 model year, Mazda offered an all-wheel-drive system for the first time on the Mazda3 order sheet, exclusively for the automatic transmission version.
Common Problems With The Mazda 3
After looking through forums and checking on the common technical/mechanical problems experienced by Mazda3 owners, I found that there top the complaints:
Electrical problems – such as dashboard and electric windows
Air-conditioning – either not working at all or blowing warm air
Clutch – sticking frequently when driving or the fly-by-wire mechanism failing (average cost of $1,200)
Brake problems – too soft or even juddering
Engine – occasionally refusing to start in harsh weather conditions such as freezing