Ford Focus Service Manuals
---
You can find 13 different repair/service/workshop manuals for the Ford Focus on this page that are in the PDF format, totally free of charge.
Yearly Focus Service Manuals
The years available stretch from 2000 through to 2011 and to view the manual you just click the name.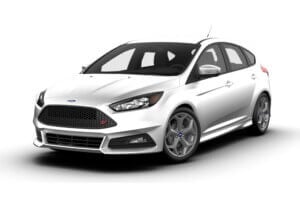 About The Ford Focus
In an aim to market one compact car model that could be sold successfully worldwide, Ford combined teams from several countries.
What they created was the Focus, a direct replacement for the Escort that could sell well in both Europe and the Americas.
Straight away the model won the "European Car of the Year award" award in its first year on sale in the continent in 1999.
A year later the Focus was introduced to North America with a few small alterations to help it sell better especially in the suspension setups.
Roads in Europe are typically less straight and bumpy so require a softer suspension in comparison to the multi-lane freeways connecting most of the USA.
RS and ST Performance Versions
Within the first few years on sale, a high-performance variant called the RS was introduced which saw almost every part of the car uprated.
Upfront inside the RS was a 2-liter turbocharged engine fed through a limited-slip differential to the front wheels – complimented by Brembo brakes.
During the second generation, another performance version was also released called the ST, although this model wasn't as powerful as the RS.
Modern Focus Models
Modern versions of the car are available as a 5-door hatchback, a 5-door station wagon/estate or a 4-door saloon.
A 2020 refresh of the Focus saw some minor appearance changes to the line and the addition of a mild-hybrid version of the 1-liter engine.
In front of the driver is now an all-digital instrument cluster and a wireless charging pad for smart devices such as mobile phones.
Less of the company's resources are being put into sedan models now due to the market steering towards crossover SUVs like the Ford Edge.
Focus Common Problems
During the first generation of the Ford Focus production, some customers were plagued by issues such as:
Alternators short-circuiting and overheating
A small plastic part inside the door lock failing and stopping the door from closing properly
Very early models developed an issue with loss of power caused by a problem with the drivetrain control software
The oil cap working itself loose and leaking
March 1999 Focus models had an issue with the airbag inadvertently deploying