Ford Explorer (+Sport Trac) Service Manuals
---
You can find 21 different repair/service/workshop manuals for the Ford Explorer (+Sport Trac) on this page that are in the PDF format, totally free of charge.
Yearly Explorer (+Sport Trac) Service Manuals
The years available stretch from 1991 through to 2009 and to view the manual you just click the name.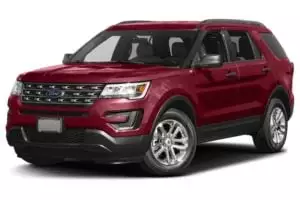 About The Ford Explorer (+Sport Trac)
Originally the Ford Explorer came onto the scene in the early 1990s as either a mini-SUV or mid-size SUV, depending upon if you chose the 2 or 4-door version.
In 2011 the line had a massive shake-up that then saw the classification of the car change to a mid-size crossover SUV.
The most obvious change that led to this change was the loss of the off-road equipment underneath the Explorer, leading to a much lighter overall weight.
Ford moved the model away from being built upon the Ranger pickup truck chassis and onto the D4 Platform that is shared with the Taurus and other models.
Sales spoke volumes about the change, in 2010 the car was selling 60,00 units per year and by 2015 it had almost quadrupled that number.
Customers were loving the better fuel economy and lower maintenance costs that were associated with removing the heavy axles, differentials and transfer boxes.
Ford brought the Explorer into service to replace the aging Bronco model that had gone through its ups and downs since its introduction in the 1960s.
The name came from a trim that was on sale for the F-150 for many years but is not on sale now in order to avoid clashing with this line.
For police forces that were using the Ford Crown Victoria as a squad car a specially adapted version of the Explorer was offered as a replacement when it was retired in 2011.
You can also find this car on sale as the Lincoln Aviator with more features as standard and an increased level of luxury inside and out.
Ford Explorer Sport Trac
During the years 2000 and 2010, the Explorer was used as the basis for a pickup truck version that was called the Sprot Trac.
It was marketed in the USA and sat in the mid-size pickup truck classification and was eventually replaced by the Ranger model.
Service manuals for this version of the SUV are also available on this page for the corresponding years it was available.
Common Explorer Problems
The more recent models of Explorer built as a crossover SUV have had these common faults:
Electrical problems due to the wiring have a soy-based coating that attracts rodents
The door ajar warning light staying on because a component in the door has failed
Carbon monoxide poisoning in the cab due to exhaust issues in the Explorer
Sometimes the MyFord infotainment system won't work in cold temperatures and shows a black screen