Ford Mustang Service Manuals
---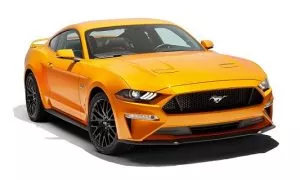 About The Ford Mustang
The Ford Mustang holds the title of being the longest-running model being manufactured by the American automaker.
Its story starts in the early-1960s when designer John Najjar co-designed the long-hood short-deck pony car sports car.
After years of testing and development, the first Mustang was sold in 1964, beaten by just 14 days by the Plymouth Barracuda to the title of "first pony car to be sold".
Although the company had only expected to be able to sell 100,000 units per year the range was hugely successful and over 1 million were sold in the first 2 years.
In the 1970s the price of oil rocketed and forced car owners to rethink the vehicles that they drive, pushing the Mustang out of fashion.
Ford responded in the late 1970s by redesigning the pony car to include enough space for 4 passengers and luggage to help it remain practical.
This less-sporty model that was built on the Fox platform continued in the same direction during the 1980s and 1990s until the mid-2000s when it started returning to its roots.
In 2005 the fifth-generation Mustang was unleashed on the world and now boasted the flare associated with the original exciting models of the 1960s and 1970s.
A wide range of engines allowed the car to be affordable as well as high-performance, with both V6s and V8s on offer again.
2015 saw a new line of engines added to the order sheet including a sensible 2.3-liter engine through to a 5.2-liter Predator V8 capable of 760bhp.
Modern Ford Mustangs employ production techniques that are part of the "One Ford" initiative to drive down costs which are also used on the Fiesta and Edge lines.
For those who are fuel-economy-minded, you can opt for a 10-speed automatic transmission to squeeze as many miles as possible from the tank of fuel.
Those who are looking for a traditional and exciting driving experience can opt for manual transmissions still, rare for modern cars.