Ford Taurus Service Manuals
---
You can find 9 different repair/service/workshop manuals for the Ford Taurus on this page that are in the PDF format, totally free of charge.
Yearly Taurus Service Manuals
The years available stretch from 1986 through to 2002 and to view the manual you just click the name.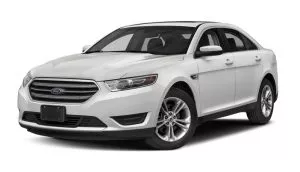 About The Ford Taurus
Production of the mid-size Ford Taurus began in the mid-1980s and in 2019 the last model was assembled outside of China.
The model is continuing in the Chinese market as a rebadged Fusion altered to help it sell in the Asian country.
For several years the car was also sold under the company's high-end brand as the Mercury Sable and was used as a base for the Lincoln Continental.
Initially, the Taurus sold very well but during the 1990s the model saw fierce competition from Japanese alternatives and drivers switching to SUVs.
In 2007 the model was redesigned drastically and was now considered a full-size car as it used the Five Hundred chassis underneath it.
This chassis was developed with Volvo who themselves used it under the S80 and V70 to name a few models.
In 2018 Ford announced that it was discontinuing the Taurus from North America along with the Fiesta, Focus and Fusion.
Consumer tastes were switching away from sedans rapidly and towards pickup trucks and SUVs that gave buyers more car for their money.
Taurus Common Problems
Among the modern examples of the Taurus sold this century some owners have complained about the following problems:
Problems with the sunlight sensor that cause the automatic lights to not switch on
A magnetic sensor for the camshaft can become loose and cause the check engine light to appear
During cold days the engine can hesitate or not start at all, then when it does the idle is reportedly rough
Misfiring of the engine when driving at freeway speeds with some reporting it to be caused by the camshaft synchronizer assembly