Ford Fusion Service Manuals
---
You can find 10 different repair/service/workshop manuals for the Ford Fusion on this page that are in the PDF format, totally free of charge.
Yearly Fusion Service Manuals
The years available stretch from 2005 through to 2010 and to view the manual you just click the name.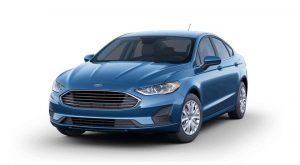 About The Ford Fusion
In the USA the Ford Fusion is a mid-size car with 4-doors that entered production in 2005 and was discontinued in 2020.
Europe also has a Fusion model sold by the American automobile manufacturer but it's a mini-MPV based on the Fiesta.
In Europe, the American Fusion is sold as the successor to the Mondeo line, a nameplate that proved successful in that territory previously.
The service manuals on this page are for the North American version of the car that replaced the Contour line.
During its life, the Fusion achieved yearly sales of over 300,000 at its peak thanks to its practicality and customization possibilities.
Engines typically ranged from modest 4-cylinder options of 1.5-liters in size through to more sporty V6s around the 2.7-liter mark.
Customers have also always been able to choose between automatic and manual transmissions to help the car sell to various demographics and in various regions.
In the later years that the Ford Fusion was being produced the car was also sold with an optional mild-hybrid and plug-in-hybrid drivetrain.
At various points in its life the Fusion has been marketed through other brands such as the:
Mazda6
Lincoln MKZ
Mercury Milan
Towards the end, the car was improved during its final year of production to include Apple and Android mobile device connectivity and a WiFi hotspot as standard.
When the car was discontinued in the USA it spelled the end for traditional SUVs from the American company, with the focus now switched to SUVs and trucks such as the F-150.