Ford Ka (incl. Ka+) Service Manuals
---
You can find 1 different repair/service/workshop manuals for the Ford Ka (incl. Ka+) on this page that are in the PDF format, totally free of charge.
The years available stretch from 1997 through to 1997 and to view the manual you just click the name.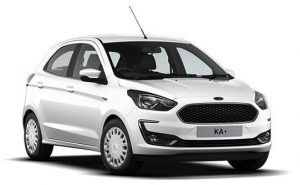 About The Ford Ka (incl. Ka+)
When the Ford Ka hit the roads in the mid-1990s it was classed as a city car.
A relatively new segment of the auto market, "city cars" were attracting buyers looking for a low-priced and low-running cost car.
This was the first city car that Ford manufactured and they took the chassis from the Fiesta to speed up production and lower development costs.
Ford manufactured the car in Spain and Italy to target the European market, with no intention of taking the tiny car to the United States.
A plant was put together in Brazil too as Ford was taking advantage of the rapidly growing population in that region.
The Brazilian version of the car was offered with a smaller 1-liter engine producing 53 horsepower.
Original Ka models from the 1990s were offered in 3 different varieties:
The standard model with a 1.3-liter gasoline engine
A sporty SportKa trim was launched in 2003 boasting a larger 1.6-liter engine and flare
A convertible called the StreetKa was also introduced in 2003 that was longer with only 2 seats
Journalists noted that the Ka had impressive handling due to its shape and size which led to its use in the British Mintex rally championship.
Second Generation Ka
In 2008 the second generation Ka was launched by the company and now the slightly smaller vehicle shared a production line with the Fiat 500.
It shared the chassis with the 500 and so came with many of the same options and engines.
Buyers could now order features such as Bluetooth connectivity, voice control and an MP3 player in their Ka for the first time.
Unlike the first generation, this model featured much more safety equipment such as ABS and an immobilizer that helped it achieve a 4 out of 5 star rating with Euro NCAP.
Third Generation Ka
Once again Ford has switched back to using the Fiesta platform for the Ka model with fewer alterations in 2014.
This means that due to the size increase this car has been moved into the subcompact car category and away from the city car segment.
Ford rebranded the new car the Ka+ and in some regions, it is known as the Figo instead.
The new model has a wider range of engine options and can be bought with a boot sticking out the back in the sedan version.
For the first time, a turbodiesel engine is on offer and an automatic transmission makes an appearance for the first time in the line.
In late-2019 the Ka+ was discontinued from Europe but continues to live on in rapidly growing markets such as Brazil and India.