Ford E-Series Service Manuals
---
You can find 13 different repair/service/workshop manuals for the Ford E-Series on this page that are in the PDF format, totally free of charge.
Yearly E-Series Service Manuals
The years available stretch from 1982 through to 2008 and to view the manual you just click the name.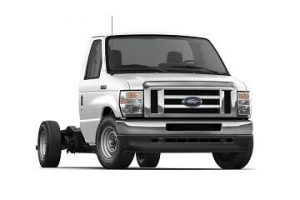 About The Ford E-Series
The Ford E-Series is a range of vans on offer from the American automaker for both cargo and passenger use.
You can find the first E-Series models to hit the roads in the year 1961 when Ford switched away from their range of panel vans based on the F-Series pickup truck platform.
It is a long and lucrative line for the company and thanks to the versatility of the model it has managed to evolve and remain relevant to van buyers to this day.
The first E-Series vans in the 1960s were intended to compete with the Volkswagen Transporter and the Chevrolet Corvair van.
What set the E-Series apart was the engine being in the front, giving much more space in the rear for important things like cargo.
Originally the van was known as the Econoline and used the Ford Falcon chassis as a base with a V8 engine placed slightly further back on its stretched-out frame.
As the years and generations went by Ford moved away from using a car chassis and developed a more specialized base for the van.
The range of engines grew over the years also to include diesel as well as V6 and V10 powerplants.
When ordering your E-Series, instead of choosing a trim you order it by a model number that denotes the weight of the frame:
E-150 – half-ton
E-250 -3/4 ton
E-350 – a whole metric ton
In 2015 the Ford E-Series began to offer buyers the option of a cutaway cab version that allowed them to add their own bodywork to the frame of the vehicle.
As the line went more towards the cutaway cab version and to the heavier end of the commercial market Ford started pushing the smaller Transit model in the USA alongside it.