Ford Courier Service Manuals
---
You can find 1 different repair/service/workshop manuals for the Ford Courier on this page that are in the PDF format, totally free of charge.
Yearly Courier Service Manuals
The years available stretch from 1982 through to 1982 and to view the manual you just click the name.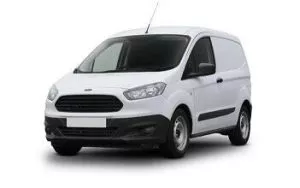 About The Ford Courier
The Courier nameplate has been in use since the 1950s and has always been used for commercial vehicles.
Originally the Courier model was a van version of the full-size car offered by Ford at the time, removing the rear seats to add a cargo area.
Along with the rear seats being removed the windows in the rear were also replaced with panels to increase security.
Ford called this the "Courier sedan delivery" version of the car although the body shape resembled a station wagon with a tall roofline.
This was before the advent of the typical "van" that automakers were offering alongside cars.
In the early-1960s Ford launched a separate commercial van line called the Econoline yet still offered a commercial body style of the Ford Falcon full-size car alongside it.
This meant the "Courier" name went unused until the 1970s when it was revived as a compact pickup truck, a rebadged model from Mazda.
The partnership continued between the two automobile manufacturers lasted until 2020.
Rebadging the Mazda B-Series only last up until 2007 though, selling worldwide except for in the United States.
For a brief time, the Courier name was used for a range of vans in Europe that were based on the Fiesta platform but longer.
This European version was sold as the Courrier in France due to the spelling of the name seeming like a mistake.
These Fiesta vans lasted from 1991 through to 2002 until they were replaced by the Transit Connect, which is based on the slightly larger Focus chassis.
In Brazil, a Fiesta-based compact pickup truck was marketed by Ford between 1998 and 2013 that bore the "Courier" name.