Ford Escape (Kuga) Service Manuals
---
You can find 25 different repair/service/workshop manuals for the Ford Escape (Kuga) on this page that are in the PDF format, totally free of charge.
Yearly Escape (Kuga) Service Manuals
The years available stretch from 2001 through to 2010 and to view the manual you just click the name.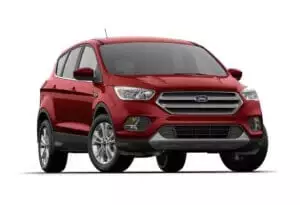 About The Ford Escape (Kuga)
When the Ford Escape first hit the scene in the year 2000 it was the result of a joint development between them and Mazda.
Mazda released their version of the compact crossover SUV as the Tribute and outside of the chassis the body shared very few parts with the Ford version.
Most of the engines were provided by Mazda for this joint SUV with the V6 version being a Ford production specifically for the North American market.
In China and Europe Ford sold this car as the Maverick, replacing the Mazda-derived version it was rebadging before.
In 2008 the Maverick was retired and for the next 5 years a replacement was designed called the Kuga for the European market.
Ford used this new European model as the new Escape in North America, replacing the previous Mazda-Ford developed version.
The USA version of the car is fitted with slightly different powertrains and adapted slightly for the American driver.
Most examples of the Ford Escape are front-wheel-drive to save on weight and reduce running costs but some have been upgraded to four-wheel-drive.
In 2020 the fourth-generation model was introduced with new hybrid options for buyers who want to cut down on fuel bills.
Customers can now opt for a mild-hybrid that captures lost energy during braking to recycle during acceleration or a full-blown plugin-hybrid that they can charge using mains electricity.
Inside of the new car is a range of modern technology for both comfort and safety including a blind-spot-monitor and lane-keep-assist.
Ford has a range of crossover SUVs like this Escape including the slightly larger Edge and the much larger Expedition.
Escape Common Problems
For Ford Escape models built during the last 20 years you may find them plagued with these issues:
An ignition misfire that was widespread between 2001 and 2013 which led to the ignition coils failing and needing to be replaced
The EGR sensor failing and leading to the check engine light illuminating and the car stumbling and hesitating
Transfer cases on the four-wheel-drive models wearing away leading to clicking noises coming from it
Transmission failure at 70,000 miles for Escapes built between 2008 and 2014