Ford Crown Victoria Service Manuals
---
You can find 7 different repair/service/workshop manuals for the Ford Crown Victoria on this page that are in the PDF format, totally free of charge.
Yearly Crown Victoria Service Manuals
The years available stretch from 1992 through to 2009 and to view the manual you just click the name.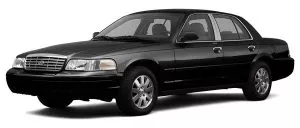 About The Ford Crown Victoria
You can trace the Ford Crown Victoria name way back to the 1950s when it first emerged as a trim for the Fairlanes.
This Fairlanes Crown Victoria trim ran for just 2 years and in 1980 it was revived as a top-level trim for the LTD model from Ford for the rest of the 1980s.
In 1991 the name was used for a model of its own, a full-size car that was built on the Panther chassis from the LTD.
Outside, the new car was much more aerodynamic and featured curves in its styling, unlike the LTD that was very boxy.
Ford used the Taurus as inspiration for the styling of the vehicle, essentially creating a larger version of the car.
You could only purchase the Crown Victoria as a 4-door sedan with a 4.6-liter V8 mated to a 4-speed automatic transmission.
It was sold by other Ford subbrands as well throughout its life, rebadged as the Lincoln Town Car and the Mercury Grand Marquis.
Second Generation Crown Victoria
In 1998 a second-generation version of the car was launched although it retained the same limited engine and transmission options.
It made an appearance under the Mercury and Lincoln brands as well for a second time.
1998 also saw the introduction of the police interceptor version of the car that was uprated in many places, including the radiator.
Many police forces across North America adopted the Crown Victoria thanks to its reliable image and solid construction.
Alongside police forces, taxi companies were making heavy use of the car also, with it becoming synonymous with New York City.
In 2011 the final Ford Crown Victorias rolled off the production line and buyers were instead flocking to crossover SUVs like the Edge.
Police forces switched to the Taurus as the basis for their next fleet of cars from Ford.