Mazda MX-5 Service Manuals
---
You can find 2 different repair/service/workshop manuals for the Mazda MX-5 on this page that are in the PDF format, totally free of charge.
Yearly MX-5 Service Manuals
The years available stretch from 1989 through to 2001 and to view the manual you just click the name.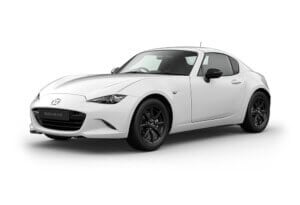 About The Mazda MX-5
Production of the Mazda MX-5 began in 1989 when the Japanese automaker wanted to follow on with the legacy of the post-war British sports cars.
Many of the big names in the segment had dropped out of the market mainly due to the British auto industry declining during the 1970s and 1980s.
Mazda took all the best bits of an affordable 2-seater sports car and created the MX-5, also known as the Roadster and MX-5 Miata around the world.
It had its engine sit in the front of the driver as close to the center of the car as possible for fantastic handling.
Power was directed to the rear wheels to allow the front to focus on the steering with the weight of the engine providing additional traction.
The car instantly won a huge audience and many motoring publications declared it the winner of awards such as "Automobile of the Year".
It was so successful that other Japanese automakers also got into the segment with their own offering including the Honda S2000 in the late 1990s.
The MX-5 has gone through four generations of design during its life and stuck to what it does best – simplicity.
Modern examples of the car feature a retractable fastback-styled hard-top that takes inspiration from the one on the Chevrolet Corvette.
Engine options for the car have always been limited to just one or two options, although these powerplants are designed with this car in mind.
Unlike the S2000 and several other small roadsters, you have always had the option of a manual or automatic transmission in the Mazda MX-5 throughout its life.