Mazda CX-7 Service Manuals
---
You can find 2 different repair/service/workshop manuals for the Mazda CX-7 on this page that are in the PDF format, totally free of charge.
Yearly CX-7 Service Manuals
The years available stretch from 2007 through to 2010 and to view the manual you just click the name.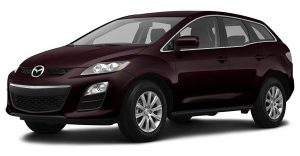 About The Mazda CX-7
The Mazda CX-7 only had a short life, beginning production in 2006 and running through to 2012.
It was a mid-size crossover SUV and the first mid-size SUV built by the Japanese automaker in-house since the Navajo was discontinued in 1994.
Mazda intended for the CX-7 to replace the Tribute briefly as the new family-friendly SUV.
Unlike the Tribute, this CX-7 wasn't offroad capable although it did boast a high seating position and higher ground clearance.
This car was built using the chassis taken from the Ford Focus and Mazda3 but with a taller SUV-like body put on top.
Safety ratings were very good thanks to the extensive engineering performed by Ford on the platform that underpins many of their own and other automakers' cars.
Engine options were fairly limited in the CX-7, you could opt for a 2.3-liter turbocharged or 2.5-liter naturally aspirated gasoline or 2.2-liter turbodiesel.
a 6-speed automatic and 6-speed manual transmission were available to be mated to these engines that would then drive either the front or all four wheels.
Depending on the region you were buying the car and trim you chose determined the availability of the drivetrains.
In 2012 the CX-5 and CX-8 took over from this line as the new flagship crossover SUV range that the company funneled customers towards.
Common Problems With The CX-7
Turbo – if you notice a large loss of power and white smoke billowing out of the exhaust then you may have experienced a blown turbo, requiring a full replacement.
Trim on seats – the cheaply made plastic trim straps on the CX-7's front seats are known to break off leading to a replacement needed to fix it all back into place
EGR – on modern diesel engine cars the EGR valve can fill with soot requiring either the owner or a trained mechanic to remove the module and clean it out with a solution and/or wire brush