Subaru Forester Service Manuals
---
You can find 27 different repair/service/workshop manuals for the Subaru Forester on this page that are in the PDF format, totally free of charge.
Yearly Forester Service Manuals
The years available stretch from 2000 through to 2008 and to view the manual you just click the name.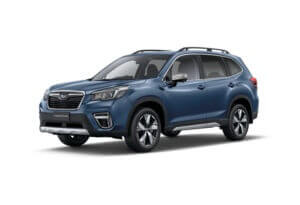 About The Subaru Forester
In 1997 Subaru introduced the world to the Forester, a compact crossover SUV.
It was one of the first cars to be launched into that new segment which was already dominated by the Toyota RAV4 and the Honda CR-V.
To create these new types of automobiles the manufacturers added an SUV body on top of a road-going car.
Subaru took the chassis from an Impreza and the engine from the Legacy Outback to create the first Forester.
This led to a more offroad capable car than the Impreza with similar running costs thanks to its lightweight.
Customers loved the ample room inside the Forester with a high seating position that gave a much better (and safer) view of the road and everything around.
Much like the RAV4 and the CR-V, over the years these models moved away from their utilitarian looks.
The automakers found that a huge audience of buyers would be available if they added modern safety and comfort features into these crossover SUVs.
You can see this reflected by the sales of the Forester in the USA, moving from 50,000~ sales per year at the turn of century to almost four times that in recent years.
Following on from the Impreza and Legacy, Subaru also added a range of performance trims for the Forester at various points in its life.
The XT and STI trim added turbocharged boxer engines with uprate suspension and other components.
From the outside, it's easy to tell the performance versions of the Forester apart due to their flare and usually striking color schemes.
Common Problems With The Subaru Forester
Some of the most common problems with the Forester include:
Poor engine idling – an older example of this car can have dirty parts clogged with years of grime restricting fluid and air movement
Interior parts deteriorating – due to cheap plastic interior features they can easily show signs of aging if not handled with care over the years
Oil leaks – you can expect to find oil leaks in older Foresters due to the belts wearing away which can be easily fixed with replacements