Toyota RAV4 Service Manuals
---
You can find 4 different repair/service/workshop manuals for the Toyota RAV4 on this page that are in the PDF format, totally free of charge.
Yearly RAV4 Service Manuals
The years available stretch from 2000 through to 2007 and to view the manual you just click the name.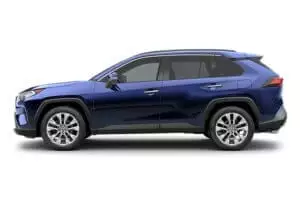 About The Toyota RAV4
The Toyota RAV4 entered the motoring world in the mid-1990s and started the crossover SUV revolution.
It was the first car to take a chassis from a standard road-going car (in this case the hugely popular Corolla) and stick an SUV-style body on top.
This led to a lightweight vehicle that had better interior space and clearance without the large running costs typically associated with a traditional SUV.
Honda quickly responded by launching their own version of the compact crossover SUV called the CR-V that was based on the Civic.
Eventually, most automobile manufacturers launched their own crossover SUVs of all shapes and sizes with many automakers now focusing most of their resources on this segment.
Original RAV4 models were very utilitarian looking with the focus on still looking and feeling like an offroad capable vehicle.
As the generations of redesign went on the model stuck with what the general car-buying market wanted and this paid off.
The body of the RAV4 lost its tough appearance and gained color matching bumpers as well as an abundance of comfort and safety features inside the car.
This led to the sales rocketing from the 50,000 or so models it sold per year in the USA during the 1990s to ten times that level the most recent version of the car achieves in recent years.
These modern versions of the car are offered with a wide variety of engines and various hybrid systems to help the car achieve an even better fuel economy.
Toyota still offers some offroad capability in the RAV4 if the buyer desires it but as an upgradable option.
More emphasis is put on the comfort features such as the infotainment system and mobile device connectivity which appeals to a much more broad market.
You can find the car on sale with a longer-wheelbase in Japan as the Vanguard, a slightly different-looking version in China called the Highlander and also under the Suzuki brand as the Across.