Toyota Prius Service Manuals
---
You can find 5 different repair/service/workshop manuals for the Toyota Prius on this page that are in the PDF format, totally free of charge.
Yearly Prius Service Manuals
The years available stretch from 2001 through to 2006 and to view the manual you just click the name.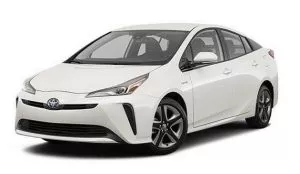 About The Toyota Prius
The Toyota Prius is credited with being a game-changing hybrid-electric car that changed the way we look at alternative fuels.
It was essentially the world's first mass-produced gasoline-electric hybrid car that ruled its segment of the market for many years.
Sales started in 1997 in Japan but the complete rollout worldwide wasn't complete until the year 2000.
By 2008 the Prius had sold over 1 million examples and by the start of 2017 over 4 million of them had been sold in total.
Originally the car was only sold in one configuration, a 4-door sedan – then in 2003 Toyota added a 5-door liftback version to broaden the model's appeal.
Over the years the Prius range has been extended to include an all-electric version called Prime, a station-wagon version called the V and a smaller version called the C.
In 2003 the second-generation Prius was introduced to the market and included an all-electric air-conditioning system, a first for the auto industry.
With this new model came an improvement in fuel economy, roughly 15% more miles could be achieved from the same amount of fuel.
This tradition continued with each of the two following generations, roughly increasing by 10% or so as Toyota improves its technology.
With the third-generation Toyota Prius, the price was slashed around 15% to help it compete as other hybrid models were starting to appear on the market.
The Japanese automaker also employed more green materials that relied less on petroleum to help improve the car's environmentally friendly image.
2015 saw the release of the fourth-generation Prius which was now built on the company's universal platform shared with the RAV4,
Toyota claims that it has a lower center-of-gravity and improved rigidity while allowing the company to focus on one major platform to cut down on costs.