Toyota Camry Service Manuals
---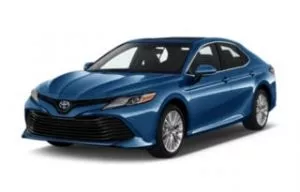 About The Toyota Camry
When the Toyota Camry first went on sale in the early 1980s it was classified as a compact car.
In the early 1990s, Toyota had a switch around with their range and many of them grew into the next class up, including this one which became a mid-size car.
Much of the growth can be attributed to the increased space required for safety features that became standard in order to pass safety crash tests.
The inclusion of additional comfort features is also another factor for the growth, including air conditioning, power windows and power-adjustable seating.
Over the years most of the Camrys have been sold as front-wheel-drive but some of the models in more recent years have been available as four-wheel-drive too.
When Toyota launched their luxury sub-brand Lexus they offered a premium version of this car that they called the ES.
At various points, the Camry has also been rebadged by other manufacturers including the Daihatsu Altis and the Holden Apollo.
All around the world, the car sells in incredible numbers, especially in the USA where it was the best selling passenger car from 1997 through to 2020.
In the USA alone it regularly sells over 400,000 examples of the car each year during the last 2 decades.
The most recent version of the Toyota Camry was introduced to the market in 2017 as its eighth generation known internally as the XV70.
Compared to its previous version this car shares only one component, the logo emblem on the front and rear of the car.
It shares this new platform with many other popular models such as the RAV4 and the Sienna – allowing Toyota to concentrate on developing just one chassis.
By concentrating on one shared platform between many models the safety and comfort features can be optimized at a lower cost.
Common Problems With The Camry
Oil consumption – owners of the XV40 version across years 2006-2013 have reported a lot of oil being consumed by the engine without any apparent leaks. Suggestions have been made that it is escaping out of the exhaust system. The fix for this isn't simple and could be a wild-goose chase in mechanics bills to fix
Transmission – for models since the year 2000 drivers of the Camry have noticed gears slipping and being hard to shift pointing to the torque converter. The cost for replacing this part can be anywhere from $500 to $1,000
Brakes – the brakes failing and/or the brakes warning light coming on has plagued owners of the Camry in recent years. Causes of this vary but can be down to a faulty brake actuator or a faulty ABS module