Toyota Tundra Service Manuals
---
You can find 6 different repair/service/workshop manuals for the Toyota Tundra on this page that are in the PDF format, totally free of charge.
Yearly Tundra Service Manuals
The years available stretch from 2000 through to 2010 and to view the manual you just click the name.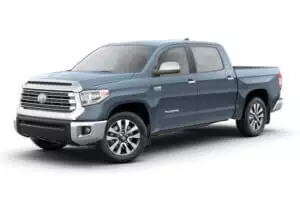 About The Toyota Tundra
To replace the T100 as the company's flagship mid-size pickup truck Toyota introduced the Tundra in mid-1999.
The T100 had been in production for 6 years previously and had shared many components with the Hilux and 4Runner.
It was only sold as a 2-door with a range of engines including a TRD performance version sporting a supercharged V6.
This Tundra that replaced it was offered with a similar-sized range of engines but this time they were revised upwards with larger displacements.
You could also buy the new truck as a 4-door that expanding the market for it to families who found the old model lacking in seats.
In 2007 the second-generation Tundra was introduced to the market with its new design taking cues from the larger tried and tested Tacoma.
The biggest changes to the line were a much larger 5.7-liter V8 engine option as well as a 6-speed automatic transmission.
Sales instantly exploded for the pickup truck with the new changes but unfortunately so dip the oil prices as the credit crunch took center stage over the next few years.
This forced sales to decline but not as bad as some models thanks to this Tundra's use as a commercial as well as a domestic vehicle.
Ever since the big shock to the global market, the sales of the Tundra have sat at just over 100,000 per year almost every year in the USA alone.
In recent years the pickup truck has boasted features such as an updated Entune 2.5 system infotainment system and sonar-powered driving-aids.
Since 2014 the 2-door version of the truck has been discontinued, with the focus now put onto the larger 4/5 seat cabs that prove more popular with American truck buyers.
Common Problems With The Tundra
Air induction pump – for the 2012 models of the Toyota Tundra a common problem occurred in the air induction pump causing owners to have to fork out over $3,000 to replace it
Pistons – a knocking in the pistons could start as the engine starts to wear away over the years and be a sign of an even worse problem occurring soon as well as add an annoying noise to the car running normally