Toyota Tacoma Service Manuals
---
You can find 13 different repair/service/workshop manuals for the Toyota Tacoma on this page that are in the PDF format, totally free of charge.
Yearly Tacoma Service Manuals
The years available stretch from 1995 through to 2006 and to view the manual you just click the name.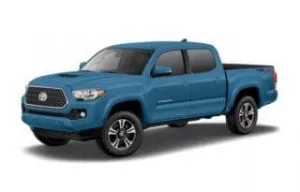 About The Toyota Tacoma
Launched in the mid-1990s, the Toyota Tacoma was the Japanese automaker's compact pickup truck.
It was intended to replace the Hilux but instead ran alongside it as the more luxurious and comfortable version using the same chassis.
All models have been assembled in the USA or Mexico with Toyota focusing on those markets due to their thirst for pickup trucks.
In 2005 the Tacoma was reclassified as a mid-size pickup truck as the public demand for the type of vehicle dropped.
You can find the vehicle is sold as a 2-door or 4-door cab with varying bed lengths in the rear depending on which size cab you chose.
Sales started off strong and eventually outsold all of its competitors in the USA by 2004, including the Dodge Dakota and Ford Ranger which were already much more established.
For those who wanted a high-performance version, the Tacoma could be bought in the S-Runner trim from the year 2000.
This S-Runner version boasted a 3.4-liter V6 engine mated to a 5-speed manual transmission and alloy wheels.
2005 saw the introduction of the larger second-generation version of the truck which was also used as the platform for the more luxurious Lexus GX SUV.
Engines were limited to just a 4-liter V6 of a straight-four 2.7-liter with this 2005 onwards model.
Then in 2008 Toyota announced a 15-year anti-corrosion warranty for new Tacomas due to the bad image they were getting from older models rusting too quickly.
2016 saw the introduction of the third-generation pickup truck which also was limited to just two engine options.
In 2020 the Tacoma received a facelift that improved both the exterior and updated the interior technology to include Apple CarPlay, Android Auto and Amazon Alexa capability.
Sales have increased over time for the line as it is constantly improved with each generation, in 2018 and 2019 it reached almost 250,000 sales each year.