Toyota Sienna Service Manuals
---
You can find 6 different repair/service/workshop manuals for the Toyota Sienna on this page that are in the PDF format, totally free of charge.
The years available stretch from 2001 through to 2007 and to view the manual you just click the name.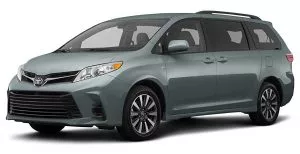 About The Toyota Sienna
In the late 1990s, the Toyota Sienna entered production to replace the Previa in the USA.
Essentially the Japanese automaker wanted to create a minivan that was better suited to the typical American consumer.
This version was larger than the Previa and fitted with many more comfort features such as large cupholders as well as a premium heating and air-conditioning system.
Underneath, the Sienna was built on the Camry chassis – with Toyota even describing it as the "Camry" of the minivan world to capitalize on the success of the sedan.
It was a huge hit in the USA thanks to its class-leading fuel economy and high safety rating according to the IIHS.
The Sienna reigned king for a few years but saw stiff competition when the Honda Odyssey came into its second generation in 1999.
To combat this Toyota did a mid-cycle refresh of the minivan in the year 2000 and improved its engine as well as the features inside the car.
Then in 2003, the second-generation Sienna hit showrooms and now sported a transmission stick embedded in the center console rather than the dashboard.
In the rear of the new car were fold-flat seating to allow the minivan to turn into a cargo-carrying van-like vehicle capable of carrying plywood and other DIY materials.
Optionally buyers could now add cutting-edge features to the Sienna for the first time like remote-keyless entry and an all-wheel-drive system.
These changes helped the car achieve improved sales year-on-year until the credit crunch and rising oil prices of the mid-2000s forced people to rethink their car purchases.
In 2010 the Sienna entered its third generation and thanks to various improvements (such as a better fuel economy) it again won back customers.
The most recent version of the car is the fourth generation that entered production in 2020 for the 2021 model year.
This modern Toyota Sienna is built on the company's more generic platform that it shares with the Highlander and RAV4 to name just a few models.
Common Problems With The Sienna
Electric windows – a common and costly failure in the Siennas with electric windows fitted is the failure of motors and cables. The fix for this can be upwards of $2,000
Dashboard – a strange aesthetic issue with the Sienna is large cracks appearing on the dashboard resulting in a large bill for a replacement
Oxygen sensor – commonly reported online is the failure of the oxygen sensor in the system that feeds air to the engine after the car has driven around 60,000 miles
Oil – the oil system is prone to leaking and losing pressure in older Toyota Sienna models. Leaving the owner with large bills as the garage try to hunt down the cause and fix it