Honda Odyssey Service Manuals
---
You can find 12 different repair/service/workshop manuals for the Honda Odyssey on this page that are in the PDF format, totally free of charge.
Yearly Odyssey Service Manuals
The years available stretch from 1995 through to 2006 and to view the manual you just click the name.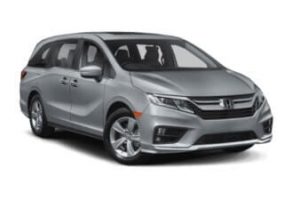 About The Honda Odyssey
During the mid-1990s Honda introduced the Odyssey to the market, a minivan designed specifically for the US region.
Originally the first-generation model was classed as a compact MPV but due to bad reception in the USA, the vehicle was increased in size for the second generation.
Underneath the Odyssey is the Accord platform that had proved very successful for the sedan that had been introduced in the mid-1970s.
This second-generation model was released onto the market in 1999 and straight away sales almost doubled per year.
It was so successful that it stood as a serious threat to the Toyota Sienna that was dominating the market in the USA at the time and forced it to adapt.
This new version of the car was far superior to the last and boasted sliding doors and an entertainment system with VHS and DVD playing capabilities.
Its chassis was praised for its four-wheel independent suspension that allowed a more comfortable ride while aiding handling.
When the third-generation hit showrooms in the 2005 model year customers noticed that the platform was now taken from the Pilot crossover SUV.
This led to increased fuel economy and better interior room for cargo and occupants.
Buyers were able to access a wide range of trims such as LX, EX, EX-L and Touring but were limited to just one 3.5-liter V6 mated to a 5-speed automatic transmission.
This limited engine and transmission flexibility continued to the fourth generation in 2011 and the fifth generation in 2018.
The fifth-generation Odyssey boasts a 9 and then 10-speed automatic transmission, designed to squeeze as much torque and miles out of the fuel as possible.
In 2021 Honda made their driver-aids and autonomous driving system "Honda Sensing" standard for all trims to increase the safety rating of the car.