Honda HR-V Service Manuals
---
We are looking to find workshop/repair/service manuals for this car and will add them when we find them.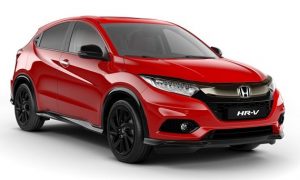 About The Honda HR-V
The Honda HR-V could be argued to be the very first subcompact car, released in 1998.
Essentially creating the new smaller-sized variation of car that has the benefits of a traditional SUV with much lower running costs.
Honda was also one of the two companies that released the first crossover SUVs during the mid-1990s.
The Honda CR-V and the Toyota RAV4 were both released at roughly the same time and showed us that we don't need a heavy chassis underneath our SUVs.
First Generation HR-V
The original HR-V was launched using the chassis taken from the Logo, a subcompact car that entered the market in 1996.
It was offered with the choice of 3 or 5-doors and a 1.6-liter engine with or without the company's VTEC system.
You could have a CVT or manual transmission fitted which then transferred power to the front wheels or all four wheels if you upgraded the car during purchase.
It saw huge success as many buyers were enjoying the higher seating position and abundance of space inside the cab compared to traditional hatchbacks.
Second Generation HR-V
In 2013 a second-generation model was put on sale and was now built on the Fit chassis after the Logo was phased out in 2001.
The design of the second HR-V was less utilitarian, moving away from the traditional offroad SUV design to a more modern coupe look.
Inside, the car had foldable seating (using the company's Magic Seats system) and focused heavily on the practicality to help it sell to family car buyers.
A wider range of engines was put on sale for the new HR-V including turbodiesel for the first time and a hybrid system to capture lost potential energy during braking.
Third Generation HR-V
2021 saw the introduction of the third-generation Honda HR-V, again built upon the Fit/Jazz subcompact car platform.
Engine choices were reduced once again to just the one, a 1.5-liter with an optional hybrid system available.
All of the modern HR-V models are fitted with a CVT and as standard is front-wheel-drive with an optional four-wheel-drive system available at point of purchase.