Hyundai Santa Fe Service Manuals
---
You can find 4 different repair/service/workshop manuals for the Hyundai Santa Fe on this page that are in the PDF format, totally free of charge.
Yearly Santa Fe Service Manuals
The years available stretch from 2001 through to 2009 and to view the manual you just click the name.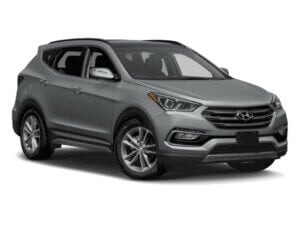 About The Hyundai Santa Fe
When Hyundai first launched the Santa Fe in 2000 for the 2001 model year it was classed as a compact SUV.
It was massively popular and the South Korean automaker made the right choice to optimize it for the US market.
The company couldn't keep up with demand as many American buyers wanted the low-priced SUV that gave local models a run for their money.
As fuel prices started to escalate in the mid-2000s Hyundai made the smart choice to switch the Santa Fe to a crossover SUV.
This meant that they cast aside the heavy offroad equipment and touch mechanics under the car in favor of a lighter overall weight.
It shared this new platform with normal road-going cars such as the Sonata and the Kia Optima.
A wider range of engines was now on offer for the car with smaller displacements and better efficiency, paired with the lighter weight chassis this led to massive improvements to running costs.
Sales managed to climb for the line during a backdrop of economic panic, most automobiles at the time were suffering from the credit crunch.
Luckily the Santa Fe had embraced a more economical direction to go in and this was paying off massively for Hyundai who used it to fuel their push into the USA.
Modern examples of the mid-size crossover SUV sit on the Hyundai-Kia N3 platform shared with even more models including the Kia Sportage.
In 2019 the option for a 3-row Santa Fe was removed as Hyundai began sales of the Palisade instead for that sector of the market.
Common Problems With The Santa Fe
Air conditioning – this can be as simple as a re-gassing needed by a professional company or a faulty compressor
Central locking – it has been reported that the actuators involved in the central locking are prone to failure and may need replacing
Starting the engine – if your engine is struggling to start in your Santa Fe then the temperature and/or coolant sensor could be failing
Power steering – if you are noticing a shaking of the steering wheel or loud high pitched noise coming on during full lock you may need a new steering pump