Hyundai Sonata Service Manuals
---
You can find 4 different repair/service/workshop manuals for the Hyundai Sonata on this page that are in the PDF format, totally free of charge.
Yearly Sonata Service Manuals
The years available stretch from 1992 through to 2006 and to view the manual you just click the name.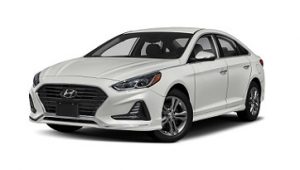 About The Hyundai Sonata
The current Hyundai Sonata is in its eighth generation after being initially launched in 1985.
It started life as an upgraded version of the Stellar from the same South Korean automaker with a better engine in the front.
This strategy, unfortunately, did not work out well for the company and after two years of sluggish sales, they retired this line.
Second Generation Sonata
A year later in 1988, they brought back the nameplate but this time they focused it on the North American and Canadian market.
It was built upon the Mitsubishi Galant platform and acted as Hyundai's mid-size car, it turned out to be so successful they also discontinued the Stellar in favor of this.
In 1989 the Sonata was introduced to the European market to compete with the already established Ford Granada Scorpio model, though priced a lot less.
Essentially the technology was provided by Mitsubishi but with the design handled by Hyundai, even the engines were imported in.
Third Generation Sonata
With the launch of the third generation in 1993, the Sonata was moved onto an in-house developed platform.
It was the Hyundai-Kia Y3 that was developed jointly by the 2 companies and used on models such as the Hyundai Dynasty and the Kia Joice.
A slightly restyled version of the Sonata called the Marcia was sold locally in South Korea for 3 years during the 1990s.
Fourth Generation Onwards
The late 1990s saw the fourth-generation Hyundai Sonata enter showrooms and the partnership with Kia grew stronger.
These two companies were slowly merging with each other during the 1990s and sharing more and more technology.
This new Sonata now shared its platform with popular models such as the Santa Fe crossover SUV and the Kia Optima.
Production was ramped up and sales increased over the next decade from 20,000~ per year to 200,000~ per year in the USA alone.
This line continues to see massive investment between the two South Korean automakers with increasing safety and efficiency ratings.
The most recent version of the car sits on the Hyundai-Kia N3 used by a large variety of cars including the Tucson and the Kia Sportage.
Built into this platform is a new fleet of driver aids including forward collision detection and adaptive cruise control that all rely on numerous sensors around the car.