Nissan Xterra Service Manuals
---
You can find 3 different repair/service/workshop manuals for the Nissan Xterra on this page that are in the PDF format, totally free of charge.
Yearly Xterra Service Manuals
The years available stretch from 2000 through to 2005 and to view the manual you just click the name.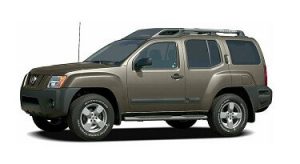 About The Nissan Xterra
Production of the Nissan Xterra started in 1999 as the company's compact SUV offering.
It shares many of the same parts as the Frontier compact pickup truck manufactured by the same automaker.
As it was built using a pickup truck as a donor car it was rugged and offroad capable with affordability prioritized over luxury.
Underneath the Xterra is a body-on-frame chassis setup that is rigid and ideal for going offroad with skid-plates to protect the mechanical components from damage.
Assembly of the car took place in the USA at first but in 2003 production was brought online in Brazil and China to push the model further afield.
The first-generation model was offered with a range of engines including a gasoline supercharged V6 all the way through to turbodiesel options.
When the second-generation entered showrooms in 2005 that range was reduced to just a single 4-liter V6 mated to either a manual or automatic transmission.
Optionally, customers could add a locking rear differential to aid in offroad capability with this new model.
Customers also had the choice of a 2WD or part-time 4WD drivetrain depending on their intended use of the Xterra.
In 2011 a mid-cycle update brought a Bluetooth hands-free system with steering wheel controls to aid in safety and comfort.
iPhone and Android devices could now link up with the car and share apps as well as stream music to the in-car entertainment system.
2015 was the final model year for the Nissan Xterra as the company didn't want to invest in trying to improve safety and emissions.
Both of these factors were becoming a problem as the required standards set out by the US government were getting a lot stricter at this time.