Nissan Pathfinder Service Manuals
---
You can find 5 different repair/service/workshop manuals for the Nissan Pathfinder on this page that are in the PDF format, totally free of charge.
Yearly Pathfinder Service Manuals
The years available stretch from 2002 through to 2013 and to view the manual you just click the name.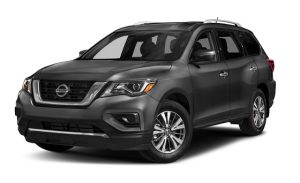 About The Nissan Pathfinder
The Nissan Pathfinder started out life in the mid-1980s as a compact SUV, battling against the likes of the Ford Bronco and Jeep Cherokee.
It was originally built on top of the D21 pickup truck chassis, giving it a good edge off-road thanks to its body-on-rails construction.
You could purchase it as a 2-door or 4-door SUV with a range of diesel and gasoline engines mated to an automatic or manual transmission.
Then in 1995, the second-generation Pathfinder entered the market and was now classed as a mid-size SUV as it grew in size around 5%.
This again changed in 2012 when Nissan decided to push it into the mid-size crossover SUV market by moving it onto its D platform.
It shared this D platform with the Maxima and Murano, which shows that it was not intended to leave the road but benefited from lower weight and better fuel consumption.
Nissan sold a luxury version of this fourth-generation Pathfinder through its Infiniti brand as the QX60 – with many of the optional features coming as standard.
2021 saw the introduction of the most recent version of the car that continues to be built on the D platform like before.
It is only being assembled in the USA as the vehicle will target that market primarily – just one engine will be offered as well – a 3.5-liter V6.
Nissan is switching the Pathfinder away from the CVT it was only offered with before and includes a 9-speed automatic transmission for the first time.
It will be an 8-seater as standard and boasts compatibility for Apple and Android devices that can connect to the infotainment system.
Common Problems With The Pathfinder
Suspension – deteriorating tension rod bushes can cause a knocking to start when driving over bumps, easily fixed with replacements
Power door locking – a known common fault with this system can cause them to stop working and can be easily fixed with a clean
Knocking noise when cornering – a plastic part in the steering can come off causing the metal to knock against other metal
Headlights – if you are unable to control the headlights it may be down to a dirty switch contact and fixed with a simple clean