Jeep Cherokee Service Manuals
---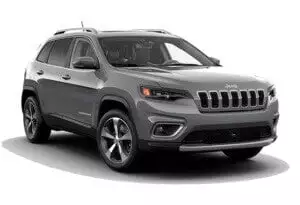 About The Jeep Cherokee
The Jeep Cherokee name can be traced right back to the early 1970s when it was used as a trim for the Wagoneer model.
In the mid-1970s the Cherokee became its own model with the code SJ to denote its version.
During its life, the model went from being a full-size SUV to one of the first compact SUVs until in recent years it evolved into a compact crossover SUV.
When it turned into a crossover SUV in 2013 it essentially lost its offroad equipment and sat on a chassis designed for on-road use.
These changes led it to weigh a lot less and so required less fuel and smaller engines to move around – making the Cherokee cheaper to run and friendlier to the environment.
This evolution has proven successful as car owners want more space inside the car but don't necessarily need more power and offroad capabilities.
Between the years 2002 and 2013, the model was sold in the USA as the Liberty, just before the change to a crossover SUV.
The most recent version of the Jeep Cherokee is known as the "KL" and production of it began in mid-2013.
It sits just above the Compass in the Jeep range which is also a compact crossover SUV but slightly smaller.
Global yearly sales managed to peak just above 350,000 in 2016 and have hovered around the 300,000 area for each year since.
The 2013 version of the car that had just been introduced was awarded 5 out of 5 stars by Euro NCAP and in 2019 that dropped to 4 out of 5 due to rapidly increasing expectations.
Common Problems With The Cherokee
Rattling trim – the interior can start to rattle and come loose with age, securing it back in place is usually easy and some adhesive gum could stop the rattling
Misfiring – buying updated spark plugs to replace the faulty originals will fix this original fault with the Cherokee
Folding mirrors – there is a large chance that you will have to replace the whole unit when the electric folding mirrors stop working
Suspension knocking – a common issue can be caused by the ball joints wearing and even caused a recall