Jeep Commander Service Manuals
---
You can find 9 different repair/service/workshop manuals for the Jeep Commander on this page that are in the PDF format, totally free of charge.
Yearly Commander Service Manuals
The years available stretch from 2006 through to 2009 and to view the manual you just click the name.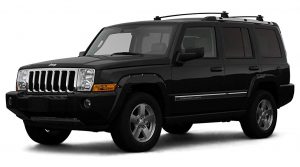 About The Jeep Commander
For just 5 years the Jeep Commander was in production in the USA and Austria and marketed to those continents.
It shared its platform with the Grand Cherokee but offered 3 rows of seating instead of 2, marketed as the 5/7 seater version of the Liberty.
Jeep only added 2-inches of extra wheelbase to the Grand Cherokee so many felt that the additional row of seating in the Commander was too tight.
As standard, the car came with many modern features as standard including an immobilizer, traction control and reverse sensors.
Engine options ranged from a 3-liter turbodiesel (outside of the USA) through to the 5.7-liter Hemi V8 on the Limited and Overland trims.
Chrysler also marketed this same car through its Dodge brand as the Nitro with a slightly different body, they continued to sell the car 2 years after this one.
Jeep offered the Commander with 3 different levels of offroad capability (Quadra-Trac I, Quadra-Trac II, and Quadra-Drive II) with some containing limited-slip-differentials and metal plating to protect components under the car.
To suit different budgets the mid-size SUV was offered in a variety of different trims such as:
Base/Sport – the entry-level model with 5 or 7 seats
Limited – this included either a 4.7 or 5.7-liter V8 engine
Overland – included a 5.7-liter Hemi V8, GPS and Command View sunroof
65th Anniversary Edition – in 2006 this trim was available with front bucket seats and a premium sound system
Rocky Mountain – includes a Boston Acoustics sound system and darkened alloy wheels
Eventually, in the 2010 model year, the Jeep Commander was discontinued and Chrysler instead focused the Dodge Durango on this segment of the market.
Sales of the car in the USA peaked in 2006 at 88,497 but quickly died off year by year with the last sales taking place in 2011.
In China, the model name was used on a rebadged Cherokee called the "Grand Commander" from 2018 onwards which featured 7-seats.
Common Problems With The Commander
Rough idling – the spark plugs are prone to failure and could be the cause of this erratic idling issue
Heating – if the heating seems to not work for certain settings setups then the root of this could be a faulty heater blower resistor that can be easily replaced
Door handles – these are known as a common part to fail on the Jeep Commander and will need replacing with the housing its sat in
Sunroof – the Commander's sunroof is known to leak and this is an easy one to sort by simply unblocking the guttering down the side of the sunroof to relieve rainwater