Jeep Wrangler Service Manuals
---
You can find 7 different repair/service/workshop manuals for the Jeep Wrangler on this page that are in the PDF format, totally free of charge.
Yearly Wrangler Service Manuals
The years available stretch from 1991 through to 2009 and to view the manual you just click the name.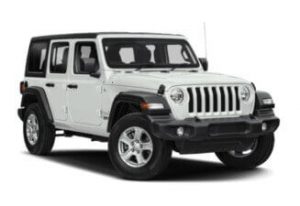 About The Jeep Wrangler
To replace the original CJ model in the mid-1980s, Jeep designed the Wrangler, a model that would retain its rugged appeal while offering better comfort.
It has been redesigned every 10 years since and is currently in its fourth generation which was introduced in 2017, denoted by the codename "JL".
When the car was first introduced into the market the company was under the control of Renault although the company was sold to Chrysler only 1 year later.
Many of the models of the Wrangler on the road at that time were 2-door but a longer wheelbase version was introduced in 2007 that offered 4-doors with increased legroom in the back.
Eventually, by 2017 the 4-door version overtook the 2-door version in sales and became the dominant line.
This third-generation version introduced in 2007 was a complete redesign from the previous 2 and saw many new comfort features added.
Electric windows, remote power door locks and a GPS built into the dashboard all helped increase the appeal of the automobile to the general public.
Carrying on with this trend of improving the features with the fourth generation saw the new Jeep Wrangler sporting even more mod-cons.
Among these were some important driver aids such as blind-spot monitoring and a backup camera to increase the view from the rear.
Customers could now also choose from a wider range of engines and transmissions that were more economical and offered greater power on the low end.
Jeep has retained the Wrangler's off-road capabilities instead of switching it to a crossover SUV and losing them as they did with the Cherokee in 2012.
For the first time in Wrangler history, a plug-in hybrid version of the car (called the 4xe) was put on sale in 2021, offering 25 miles of electric-only driving.
This hybrid system can also capture the energy that would have been lost during braking and charge the 17KWh battery with it.
The latest JL Wrangler with all of its comfort and safety features has pushed the sales to new heights with almost a quarter of a million being sold in its first year in the USA alone.