Volkswagen Beetle Service Manuals
---
You can find 26 different repair/service/workshop manuals for the Volkswagen Beetle on this page that are in the PDF format, totally free of charge.
Yearly Beetle Service Manuals
The years available stretch from 1972 through to 2008 and to view the manual you just click the name.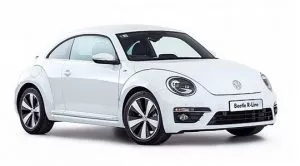 About The Volkswagen Beetle
The official name for the Volkswagen Beetle is the "Type 1" or informally as the Käfer.
Käfer roughly translates as either "bug" or "beetle" in different languages which is where we get the two nicknames applied to the car from.
The original classic Beetle ran from 1938 all the way through to 2003 and a modern version of the car was put into production in 1997.
Reviving the name, Volkswagen used the Golf chassis but with a bigger bulkier body on top to take advantage of nostalgia for the original car.
When the original Beetle was being designed its specifications included that it needs to be a "people's car" and give the people of Germany access to an affordable personal means of transport.
Adolf Hitler instructed Porsche to take on the design of the car with strict instructions that it needs to be a mass-produced vehicle with a low price tag.
This Type 1 was the first car that was under the Volkswagen brand (with Volkswagen translating to people's car) and the first rear-engined mainstream car in a long time.
Just over 21.5 million examples of the Beetle would be built, most of which in Germany but about 15% of which in Brazil for the later years that it was in production.
This makes the Beetle the longest-running car model to have been produced and also with the most examples.
It was constantly updated during its production, starting off with a modest top speed of 62mph it went on to reach speeds of 81mph at the end of its production.
In the mid-1990s Volkswagen played with the idea of reviving the name and introduced the nameplate back into the motoring world as a compact car.
It was very different from the original Beetle with its engine in the front powering the front wheels, the complete opposite of the original.
This revived model went on to be produced in large numbers and in 2019 was discontinued much like many other non-SUV models in recent years.