Volkswagen Tiguan Service Manuals
---
You can find 2 different repair/service/workshop manuals for the Volkswagen Tiguan on this page that are in the PDF format, totally free of charge.
The years available stretch from 2009 through to 2011 and to view the manual you just click the name.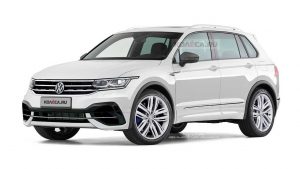 About The Volkswagen Tiguan
Volkswagen introduced the Tiguan in 2007 as its second crossover SUV model.
It had already launched the mid-size crossover SUV Touareg 5 years earlier using the Audi Q7 as a donor.
This Tiguan is classed as a compact crossover SUV, smaller than the Touareg and based on the same platform as the Volkswagen Passat.
It was offered right away with a wide range of engines thanks to the Passat chassis that it uses being well established.
You could find gasoline and turbodiesel options that were mated to automatic or manual transmissions.
Euro NCAP and the US NHTSA testing agencies crash-tested this first-generation model and gave it a perfect score.
The NHTSA scored it 5 out of stars across all of its disciplines (including the difficult rollover test that SUVs typically struggle with) and Euro NCAP scored it an overall 5 out of 5 stars too.
With the switch to the second generation in 2016, the Tiguan was branched into two different models, a short-wheelbase and a long-wheelbase version.
This led to the car occupying two segments of the auto market, the short version was still classed as a compact crossover SUV like before but the long-wheelbase version now sat in the mid-size crossover SUV niche.
It now sat on the MQB platform from the Volkswagen group of company's that underpinned many of their models.
You could find this particular chassis setup (that they call A2) at work under the Audi Q3 and the Skoda Kodiaq.
The car is also available as a longer coupe version with a sloped roofline like the BMW X6 called the Tiguan X.
For a high-performance version, you can opt for the "R" trim that adds a 2-liter turbocharged gasoline engine to the car.
The Tiguan R has a lower suspension profile and an all-wheel-drive system that electronically shifts the power from the engine to wheels that need it.