Chevrolet Aveo/Sonic Service Manuals
---
You can find 6 different repair/service/workshop manuals for the Chevrolet Aveo/Sonic on this page that are in the PDF format, totally free of charge.
The years available stretch from 0 through to 2010 and to view the manual you just click the name.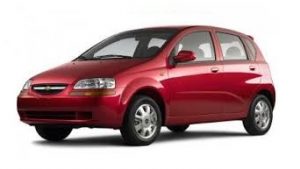 About The Chevrolet Aveo/Sonic
The Chevrolet Aveo is sold as the Sonic in North America and some parts of Asia and production of it began in 2002.
It continued to run as the American automaker's subcompact car offering up until 2020 when it was replaced by several other lines around the world.
The nameplate that is replacing it in the USA is the fourth-generation revived Cavalier name, a car that has been discontinued since 2005.
Since the Aveo/Sonic was introduced in the early years of this century it has gone on to be sold in 120 different countries through 6 different brands.
All examples of the model have been sold as a front-wheel drive with a wide range of engine sizes and trims.
Some of the most popular trims that have been on sale in the car include the LS, LT, LTZ and the sporty RS trim that comes with a spoiler and dark-colored alloy wheels.
From 2011 through to 2019 the car was also sold as the Chevrolet Cobalt in Brazil, replacing the Corsa line that was running there.
2012 brought the second generation Aveo/Sonic to customers which were now built on the Gamma 2 platform that is shared with many other models.
Some of the more popular models that it shares its chassis with include the Sail, Cobalt and Trax from the same manufacturer.
The flagship version of the new 2nd generation Aveo was the RS version that boasted a 1.4-liter turbocharged engine mated to a 6-speed manual transmission.
Inside the new Chevrolet Sonic, the exposed instrument cluster took inspiration from motorcycle design to add an exciting sporty feel to the vehicle.
Safety was made a priority and when it was tested by the 3 major crash-testing agencies ( NHTSA, Euro NCAP and IIHS) it performed brilliantly.
With all 3 of the agencies, the scores were near-perfect with it only falling back slightly due to child seat anchor points and slight rollover risk.