Chevrolet Cruze Service Manuals
---
You can find 2 different repair/service/workshop manuals for the Chevrolet Cruze on this page that are in the PDF format, totally free of charge.
Yearly Cruze Service Manuals
The years available stretch from 2010 through to 2011 and to view the manual you just click the name.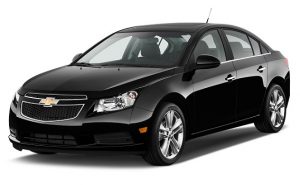 About The Chevrolet Cruze
The Chevrolet Cruze came into production in 2008 as the American automaker's flagship compact car.
It was designed to replace the Cobalt that had held this position for the previous 3 or so years before it, which itself had replaced the Cavalier.
Before 2008, the Cruze name was used on a rebadged Suzuki Ignis subcompact car that was on sale from 2001 and shares no similarity to this new model.
You could find the car on sale around the world under several different names including the Holden Cruze and the Daewoo Lacetti Premiere for the Asian market.
This compact car could be purchased in a variety of styles including a station wagon, hatchback or sedan.
The first generation model could be purchased with a wide range of engines and transmissions, ranging from 1,4-liter gasoline to a 2-liter turbodiesel.
In crash tests the car scored well, in Australia it scored 5 out of 5 stars and in the USA it was awarded the title of "Good" with the IIHS which is the highest it can go.
This original version of the Cruze went through several updates until it hit its second generation in 2016.
Some of the most major changes to the car were the loss of many of the engine options, only one gasoline engine was available in the USA.
Technology was upgraded to include connectivity for Apple and Android mobile devices with a touchscreen infotainment system added into the dashboard.
From the outside, the appearance was improved especially around the front with a new grille design and fastback-style roofline.
In 2019 Chevrolet stopped production of the Cruze in the USA and Mexico but did continue the car in other markets such as China and South Korea.