Chevrolet Cobalt Service Manuals
---
You can find 3 different repair/service/workshop manuals for the Chevrolet Cobalt on this page that are in the PDF format, totally free of charge.
Yearly Cobalt Service Manuals
The years available stretch from 2005 through to 2008 and to view the manual you just click the name.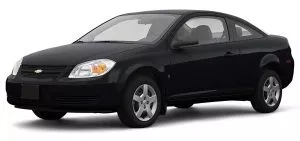 About The Chevrolet Cobalt
As a way of replacing the Cavalier, Chevrolet introduced the Cobalt to the compact car market.
You could purchase this new compact car as a sedan or coupe with all examples being front-wheel-drive with the engine in the front.
There was also a sports version of the car in the sedan or coupe-style that was branded as the SS.
This SS version of the car ran for 5 years and was available with one of three engines, a naturally aspirated and supercharged from the launch and a turbocharged one added 3 years later.
Alongside this Cobalt model ran several badge-engineered versions under different brands such as Pontiac G4, G5 and Pursuit.
What set the car apart from the market was its high-tech suspension that was fully independent at the front and employed MacPherson struts in the rear.
In 2007 (2 years after the introduction of the car) the engines received an overhaul that vastly improved the fuel economy.
Fuel economy is an important factor for many buyers of compact cars and this helped the model retain much of its high sales volume for a few more years.
Safety ratings were pretty good for the Cobalt with the IIHSA rating it 5 out of 5 stars across many disciplines, impressive for such a small car.
This car was eventually replaced by the Cruze in 2010, which was originally introduced in 2008 – a performance SS version wasn't carried over to this model.
The Cobalt name continued to be used by the American automaker when they launched a second generation in emerging markets such as Brazil and Columbia.
It shares its underpinnings with the Buick Encore and Chevrolet Spark and Trax as it is classed as a subcompact car rather than a compact one like before.