Chevrolet Cavalier Service Manuals
---
You can find 6 different repair/service/workshop manuals for the Chevrolet Cavalier on this page that are in the PDF format, totally free of charge.
The years available stretch from 1990 through to 2004 and to view the manual you just click the name.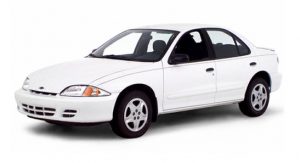 About The Chevrolet Cavalier
The Chevrolet Cavalier was a compact car produced between the model years 1982 and 2005.
In 2016 the nameplate was revived and produced again in China and Mexico using most of the Cruze as a donor car.
This Cruze-based revival ran for 3 years in China before it was dropped for a new model called the Onix, production did continue past 2019 in Mexico.
The original Cavalier was brought in to replace the Monza (a car based on the Chevrolet Vega) that had been running since the mid-1970s.
When General Motors launched this car they also released badge-engineered versions through their other brands in various styles such as:
Cadillac Cimarron – with a very similar body style but with more luxurious features
Buick Skyhawk – another entry-level luxury compact car like the Cadillac version
Oldsmobile Firenza – a base model with upgradable luxury features such as power windows if required
Pontiac Sunbird – offered with more sporty features and an optional lighter aluminum-head engine
Toyota Cavalier – for a few years in the late 1990s you could find a rebadged version of the car for sale in Japan under the Toyota brand
General Motors replaced many rear-wheel-drive vehicles across their range with this new platform which was front-wheel-drive.
Many car buyers were switching to this layout of the car as a result of the recent oil crisis during the late 1970s that had sent fuel prices spiraling upwards.
These front-wheel-drive cars like the Cavalier were lighter than their predecessor's thanks to their more compact design and lack of a driveshaft to the rear axle.
To help the compact car appeal to a wide range of buyers the American automaker offered it as a coupe, sedan, station wagon and even as a convertible.
GM continued marketing this suite of models across their brands until the mid-1990s when they all got the chop apart from the Pontiac and this Cavelier.
This car ran for another 10 years in its third generation until 2005 when it was replaced by the Cobalt model in the USA and Canada.