Chevrolet Tahoe Service Manuals
---
You can find 7 different repair/service/workshop manuals for the Chevrolet Tahoe on this page that are in the PDF format, totally free of charge.
The years available stretch from 1996 through to 2007 and to view the manual you just click the name.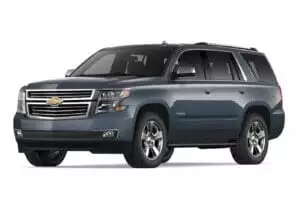 About The Chevrolet Tahoe
The Chevrolet Tahoe has always been classed as a full-size SUV ever since it entered production in 1992.
For the first 3 years, the car was only available as the GMC Yukon, its badge-engineered sibling – sharing most of the same parts with each other.
When comparing the two models the main difference between them is the level of luxury inside and the features that are included as standard.
This Tahoe version was introduced to replace the K5 Blazer, an SUV that was built on top of the C/K pickup truck chassis.
You can find this SUV on sale in North America as well as a few other territories such as the Middle East, primarily where fuel is cheaper due to its high running costs.
It is a large and heavy luxurious vehicle with V8 engines only on offer until the fifth generation in 2021 when a smaller 3-liter turbodiesel option was added.
The original first-generation Tahoe was available with 3-doors as there was still a market for these sportier versions of the SUV.
It was also available with a choice of turbodiesel engines as well as gasoline, all fed through a 4-speed automatic transmission.
In the year 2000 when the second generation hit showrooms, Chevrolet did away with the 3-door version and the turbodiesel engine variants.
General Motors also started marketing a much more luxurious version of the SUV called the Escalade through their Cadillac brand that was fully kitted out.
Then in 2007, the third generation went on sale and now the company was offering hybrid options to help the car appeal to buyers after the recent spike in oil prices and the credit crunch.
These new hybrid options were dropped as the car entered its fourth generation in 2015 with buyers now only able to choose one of two flex-fuel V8s.