Chevrolet S-10 Service Manuals
---
You can find 6 different repair/service/workshop manuals for the Chevrolet S-10 on this page that are in the PDF format, totally free of charge.
The years available stretch from 1984 through to 2001 and to view the manual you just click the name.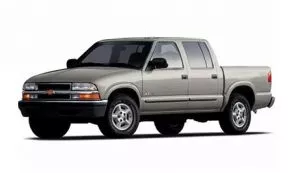 About The Chevrolet S-10
The Chevrolet S-10 was the first compact pickup truck to be produced by an American automaker, launched at the start of the 1980s.
It was later followed by the Ranger which was Ford's entry into the segment and is still in production to this day.
The S-10 isn't however and was replaced by the Colorado in 2004 for the North American market, it is however still on sale in some emerging markets such as Brazil.
You could also find this truck on sale with slightly more features as standard through the GMC brand but with the model name "Sonoma".
That GMC branded version was also used for a performance version called the Syclone that boasted a turbocharged 4.3-liter V6 with a low stance and aggressive body styling.
In the USA the S-10 was also marketed by Isuzu as the Hombre from 1996 through to the year 2000.
Chevrolet capitalized on the success of this compact pickup truck and launched an SUV version called the S-10 Blazer and also the GMC S-15 Jimmy.
These compact SUVs essentially changed the beds to a rear seating compartment and stiffened up the rear suspension to deal with the additional weight.
Original models of the S-10 had a wide variety of engines starting at 1.95-liters in displacement all the way up to a 4.3-liter V6.
When the second generation was launched the choice dropped to just 2 engines with the larger option being part of the SS performance trim.
A third-generation S-10 did appear in 2012 for the Brazilian market but it was essentially a rebadged Colorado.