Chevrolet Blazer Service Manuals
---
You can find 4 different repair/service/workshop manuals for the Chevrolet Blazer on this page that are in the PDF format, totally free of charge.
Yearly Blazer Service Manuals
The years available stretch from 1982 through to 2005 and to view the manual you just click the name.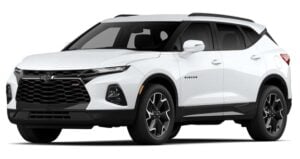 About The Chevrolet Blazer
In the late 1960s, Chevrolet unleashed the Blazer model to the world for the first time.
It was designed to take on the Ford Bronco, an SUV that had a short wheelbase and 2 doors.
Originally during its first generation, the car had a fabric roof covering the rear half but with the second generation that was turned into a hardtop.
This hardtop was not only safer during a crash but also was less prone to leaking like the cloth version.
What set this model aside was that the other similar ones on the market lack the luxuries of the Blazer, such as air-conditioning.
Sales numbers weren't impressive until the model got into its second generation in 1973 but things took a turn for the worse when the oil crisis hit in the mid to late-1970s.
Larger engines were being replaced by smaller ones as people had to watch the fuel they were using as the price spiked 4 or 5 fold in the space of 5 years.
Small SUVs like the Blazer were starting to fall out of fashion as car buyers were looking for more cars for their money.
This led to the Blazer being replaced eventually by the Tahoe in the early-1990s, a full-size SUV built using the C/K as a platform.
Almost a decade later the C/K was retired and replaced by the Silverado pickup truck, with the Tahoe getting that as a new platform at the same.
The Blazer name wasn't gone forever though, in the 2019 model year it made a return but this time as a mid-size crossover SUV.
Gone were the heavy offroad equipment that made up a large portion of the weight on the classic models and in were new features.
Crossover SUVs have exploded in popularity with many automakers cutting down on their range of standard sedan cars and offering SUVs of all shapes and sizes instead.