Mitsubishi Montero/Pajero Service Manuals
---
You can find 7 different repair/service/workshop manuals for the Mitsubishi Montero/Pajero on this page that are in the PDF format, totally free of charge.
Yearly Montero/Pajero Service Manuals
The years available stretch from 1995 through to 2003 and to view the manual you just click the name.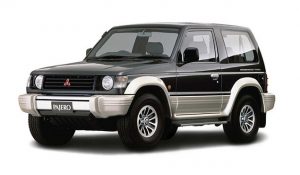 About The Mitsubishi Montero/Pajero
The Mitsubishi Montero/Pajero is a line of full-size SUVs that ran from 1981 through to 2021.
They boasted excellent offroad capabilities with plenty of room inside the car for occupants and cargo.
In Spain and America, it was marketed as the Montero and in the UK it was sold as the Shogun.
This was due to the name Pajero being a slang word in Spanish that would have led to the car being seen as a commercial joke.
Originally the Pajero name can be traced as far back as the 1930s when Mitsubishi created a concept car using that name that was never built.
The first Montero/Pajeros that were sold in the 1980s were offered as a 3-door or 5-door and had different sized wheelbases depending on the version.
Engines were varied and included several diesel options and the choice of a manual or automatic transmission.
With the introduction of the second generation in 1991, the choice of engine was drastically stepped up and assembly of the car was taking place in 7 countries to meet demand.
A performance version called the Pajero Evolution was introduced in 1997 that boasted a 3.5-liter V6 engine and sporty flare around the car.
The Pajero Evolution capitalized on the success of the standard car in the Dakkar Rally and many of the features were then carried over to the standard third-generation model.
With the third and fourth-generation, the line was focused on providing affordable offroad capable SUVs.
Sales in North America ceased in 2006 as the car moved into its third generation as many car buyers were switching to crossovers.
The North American market was left with the Mitsubishi Endeavor mid-size SUV until 2012 when that was discontinued too.
In March 2021 the production of the Montero/Pajero/Shogun was halted completely for all regions.