Mitsubishi Eclipse Service Manuals
---
You can find 6 different repair/service/workshop manuals for the Mitsubishi Eclipse on this page that are in the PDF format, totally free of charge.
Yearly Eclipse Service Manuals
The years available stretch from 1996 through to 2006 and to view the manual you just click the name.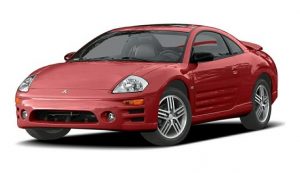 About The Mitsubishi Eclipse
Production of the Mitsubishi Eclipse began in the late 1980s as the company needed a replacement for the Cordia and Starion.
It was the new sport compact for the company and was built on the Chrysler D platform which was also used by the:
Eagle Talon
Plymouth Laser
Dodge Avenger
All early examples were front-wheel-drive apart from a few that were the GSX trim and boasted four-wheel-drive and a turbocharger.
In 1994 the Eclipse went into its second generation and gained an option for a convertible layout called the Eclipse Spyder.
Its design was more rounded and was lower with a special 10th Anniversary OZ Rally version made to take advantage of the successes the Eclipse saw in the WRC.
In 1999 a third-generation was put into production and now the car was switched over to the Chrysler ST-22 platform.
This new platform was used underneath the same cars as before but the engine options were revised upwards to larger displacements.
Unfortunately, the all-wheel-drive system was now removed as an option as well as the turbocharger in favor of V6 NA engines.
2005 saw the final version of the Mitsubishi Eclipse launched, the fourth generation which looked very similar to the previous model.
Engine options were made simpler once more, you could only choose a 2.4-liter or 3.8-liter engine that both powered only the front wheels.
A convertible was once again marketed but buyers had to wait a year (until 2007) for that to become available.
Almost 1 million examples of the Eclipse were sold during its 22-year reign, it was discontinued in 2011 with 2012 being the final model year.