Chrysler Sebring Service Manuals
---
You can find 2 different repair/service/workshop manuals for the Chrysler Sebring on this page that are in the PDF format, totally free of charge.
Yearly Sebring Service Manuals
The years available stretch from 1999 through to 2009 and to view the manual you just click the name.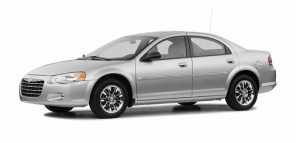 About The Chrysler Sebring
The Chrysler Sebring was a model that ran from 1995 through to 2010 as the company's mid-size car.
You could buy the original car as a coupe, convertible or a sedan – although the coupe was actually a completely different rebadged model using the same name.
This coupe version was built on a Mitsubishi platform used under the Eclipse and Galant models.
First-generation Sebring convertibles were built on the Cirrus sedan and sold in Europe under the Stratus nameplate.
As both versions of the car were built on different platforms the engine choices varied, they did both roughly sit between the 2 and 2.5-liter displacement region.
Second Generation Sebring
In the 2001 model year, the second-generation Sebring came onto the market, this time to include a sedan version.
The convertible and sedan shared the same platform and mechanics but the coupe continued to be built using the Mitsubishi Eclipse as a donor car.
You could find larger engine choices across the range as well with roughly the same transmission options on offer.
This version of the Sebring struggled in Europe due to a lack of a diesel engine option and a right-hand drive variant.
Third Generation Sebring
For 2007 the Sebring was redesigned again using a Mitsubishi platform that the company used on many more models including the Lancer and the Jeep Patirot.
The coupe version was dropped completely but a wider range of engines was now on offer including larger V6s.
Sales were now boosted in the UK thanks to a right-hand-drive version assembled for that market, although reviews in Europe were not kind to the model.
All of the major automotive review bodies failed to score it any higher than 2 out of 5 stars citing that the diesel engine is noisy and the interior is low-quality.
Its price put it up against behemoths such as the BMW M3 convertible which was much more sought after by car buyers.
Discontinuation
Eventually, the Chrysler Sebring was discontinued in 2010 with the 2010 model taking over for sedan and convertible sales.
During its final year, the American automaker rebadged the model as the new 200 to distance them from the bad press the Sebring had previously received.