Chrysler PT Cruiser Service Manuals
---
You can find 1 different repair/service/workshop manuals for the Chrysler PT Cruiser on this page that are in the PDF format, totally free of charge.
Yearly PT Cruiser Service Manuals
The years available stretch from 2001 through to 2001 and to view the manual you just click the name.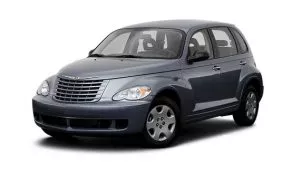 About The Chrysler PT Cruiser
The Chrysler PT Cruiser is a compact crossover SUV that was produced between the years 2000 and 2010.
It was found mainly in its standard 4-door hatchback wagon-style but you could also find some models that were 2-door convertibles.
The design of the car was based on the trends of the 1930s with many people divided into either loving it or hating it.
Sales of the PT Cruiser massively exceeded expectations in both North America and Europe with the car drawing in a cult following.
This was at the same time as many other car manufacturers employing a nostalgia strategy of reviving old models, such as the Volkswagen Beetle and Mini Cooper.
Chevrolet also tried this strategy with the HHR, a car featuring similar styling but built on the more established Delta platform shared with the Chevrolet Cobalt and other models.
Inside of the car you can find high ceilings and flexible seating and cargo setups thanks to the removable rear seating.
Many of the examples on sale were gasoline-powered but some were available with a turbodiesel engine, an important factor when trying to break some markets such as Europe.
In the final year that the car was on sale, the PT Cruiser was only available in one trim, the PT Cruiser Classic.
This Classic trim was packed full of features including a rear-mounted-spoiler, air-conditioning, cruise control and tire pressure monitoring all as standard.
Special Editions
A range of special editions was introduced by Chrysler to take advantage of the cult following the car had attracted.
These ranged from purely aesthetic packages such as the flame and wood versions that added cooky exterior vinyl graphics to the panel van version that removed the rear windows and included a wooden floor.
High-performance versions such as the PT Cruiser GT included a turbocharged engine and uprated parts including a higher capacity oil pump.
Mechanically the PT Cruiser GT is very similar to the Dode Neon SRT-4 version with many of the parts interchangeable.