Dodge Neon Service Manuals
---
You can find 5 different repair/service/workshop manuals for the Dodge Neon on this page that are in the PDF format, totally free of charge.
Yearly Neon Service Manuals
The years available stretch from 1995 through to 2003 and to view the manual you just click the name.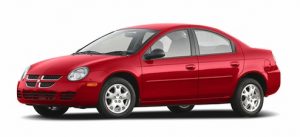 About The Dodge Neon
The Dodge Neon first appeared in the mid-1980s as the replacement for several lines including the Colt and Shadow.
It ran for roughly 20 years before discontinued and replaced by the Caliber, a model designed to take advantage of the recent crossover SUV trend.
Then in 2016, the nameplate made a return as a rebadged sedan version of the Fiat Tipo that was marketed in the Middle East and Mexico.
Although plans were made to introduce this revived model back into North America and Canada it never happened.
It has always been classed as a compact car across all three generations that it has existed, even the revived version of 2016.
All examples of the Neon have also been front-engine and front-wheel-drive with 2 or 4-door versions available.
You can find the car on sale through other brands owned by its parent company such as Plymouth and Chrysler in different levels of features and luxury.
At various points when it was on sale you could also find performance-focused variants of the Neon on sale including the R/T, SX and SRT-4.
Sales in the 1990s almost reached 250,000 units sold per year for 2 years in a row but this number shrank until the car was selling just over 100,000 units per year towards 2005.
This was impressive considering that the original Dodge Neon was only given a safety rating of "poor" by the IIHS.
During the second generation, the car was also rated "poor" for safety again but now that was expected as other cars in the same segment were scoring the same.
The IIHS also published some figures stating that the Neon was among the list of cars that had "Highest rates of driver deaths.".