Dodge Caliber Service Manuals
---
You can find 2 different repair/service/workshop manuals for the Dodge Caliber on this page that are in the PDF format, totally free of charge.
Yearly Caliber Service Manuals
The years available stretch from 2007 through to 2009 and to view the manual you just click the name.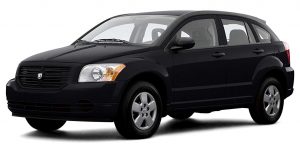 About The Dodge Caliber
The Dodge Caliber was only manufactured for 5 years by the American automaker between 2007 and 2012.
It was brought in to replace the Neon as the company's flagship compact car and was eventually replaced by the Dart.
All examples of the car sold featured 5-doors and had the engine in the front powering the front wheels with a few four-wheel-drive versions sold as well.
The Caliber was sold over 6 model years with just over 400,000 models sold to the public, three-quarters of which in North America.
This car was also the first from Dodge to be marketed in Europe and Asia since the second world war.
Sales were difficult in Japan as the Caliber was just slightly too large to be considered a compact car and so was hit with additional taxes.
To combat this, Dodge added additional features to the car to help it appeal to those looking for larger cars in that region to help justify the additional costs.
It was also one of the first major models to offer a CVT to transfer the power from the engines to the wheels without juddering gear changes.
Underneath, the chassis shares many components with the Jeep Patriot and Compass as well as the Mitsubishi Lancer.
Each year the Dodge Caliber was on sale it went through minor changes such as making the door handles match the color of the bodywork and reducing the weight of panels such as the bonnet.
To help the car appeal to a wider variety of demographics it was offered in a range of trims such as:
SE – the base model that was front-wheel-drive only with an optional CVT
SXT – added more features than the base model such as a beverage cooler and a tachometer in the instrument cluster
SXT Sport Wagon – a rarer trim that saw body-colored elements inside the car
R/T – came with the 2.4-liter engine and CVT with 6 "virtual" gears to give the experience of a manual transmission
SRT4 – a version to compete with hot-hatches that carried on from the Neon SRT-4 before it