Mitsubishi Lancer Service Manuals
---
You can find 1 different repair/service/workshop manuals for the Mitsubishi Lancer on this page that are in the PDF format, totally free of charge.
Yearly Lancer Service Manuals
The years available stretch from 2003 through to 2003 and to view the manual you just click the name.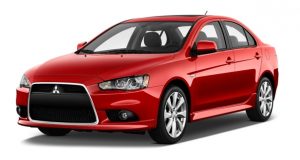 About The Mitsubishi Lancer
The Mitsubishi Lancer can trace its roots back to the 1970s when it was originally launched as a subcompact car.
In the mid-1990s it was reclassed as a compact car, a period when it was actually a rebadged Mitsubishi Mirage.
It started off as a rear-wheel-drive for the first 14 years it was on sale but in the late 1980s, the car was switched to the lighter front-wheel-drive orientation.
From 2007 the option for a four-wheel-drive system (non-Lancer Evolution trims) was added to the order sheet for the ninth generation.
Rebadged Mirage
Between 1988 and 2003 the Lancer was a rebadged Mirage, a model that was sold in many markets as the Colt.
Halfway through this phase of rebadging it changed to a compact car and so the Lancer followed suit.
It had evolved from a boxy-looking 1980s car to an aerodynamic modern contender on the auto market.
Post-Mirage Lancer
In the year 2000 Mitsubishi introduced the eighth generation Lancer model using a new platform built specifically for this car.
It was sold in some territories as the Carisma as it sold alongside the Mirage-based Lancer for several years still.
Then in 2007, the Japanese automaker launched the tenth generation car that was now built on the global Mitsubishi GS platform.
A large varied number of the company's lines were now sat upon this platform such as the ASX and the Outlander.
This platform was also used under many other partner company model lines such as the Jeep Compass and the Dodge Caliber.
For the tenth generation in 2017, Mitsubishi continued to build the Lancer on the GS platform but reduced the engine choice down to one, a 1.8-liter gasoline mated to an automatic transmission.
It is only on offer in China and Taiwan due to the unexpected large demand from those regions for the car.