Dodge Stratus Service Manuals
---
You can find 4 different repair/service/workshop manuals for the Dodge Stratus on this page that are in the PDF format, totally free of charge.
Yearly Stratus Service Manuals
The years available stretch from 1997 through to 2003 and to view the manual you just click the name.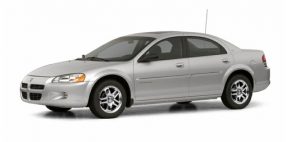 About The Dodge Stratus
The Dodge Stratus went on sale in the mid-1990s and ran for around 10 years until it was discontinued in 2005.
It served as the American automaker's mid-size car replacing the Spirit, Dynasty and Avenger coupe lines.
When it was taken out of production it was replaced by the Sebring that then ran up until 2010.
This Stratus was built on top of the JA platform that was shared with Chrysler and Pontiac mid-size cars that were all front-wheel drive.
Although the car had stiff competition from other cars in the mid-size classification it still managed to sell over 100,000 units per year for most of the years it was on sale.
During its life, it went through 2 generations of design with each lasting roughly 5 years on sale.
In the second generation (2001-2006) a coupe version was made available that was actually a rebranded Mitsubishi Eclipse.
When the model was discontinued and replaced a coupe version was not carried on with due to the weak sales saw from this one.
The first-generation Stratus did not score well when crash tested, the IIHS gave it a "poor" rating with it falling back due to its optional airbags.
With the introduction of the second-generation model, the score did improve to "acceptable" thanks to improvements to the seats and head restraints.
Once the Stratus was discontinued in 2005 the tooling was sold to a Russian car manufacturer who produced 9,000 units of it that they branded the Volga Siber.