Mitsubishi Magna Service Manuals
---
We are looking to find workshop/repair/service manuals for this car and will add them when we find them.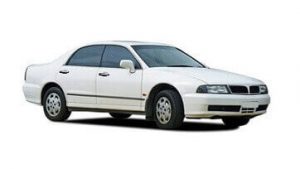 About The Mitsubishi Magna
For 20 years the Mitsubishi Magna was manufactured by the Japanese automaker within Australia, starting in 1985.
It was classed as a mid-size car and was available as a 4-door sedan and a 5-door station wagon throughout its complete life.
The car was intended as a replacement for the Mitsubishi Sigma that itself was a rebadged Chrysler by the same model name.
Although the Sigma was a rear-wheel-drive (like most of its close competitors) this new car wasn't and so boasted superior room inside the cab.
A luxury version was spun off from the main Magna line called the Verda, which featured a V6 engine and a higher level of luxury.
This Magna marks the start of a revolution of cars being built and exported from Australia, the export version of the car was known as the Diamante in the USA and other regions.
Original models could only be purchased with a 2.6-liter gasoline engine mated to either a 4-speed automatic or 5-speed manual transmission.
Then with the move to the second generation, the Verda spin-off allowed customers to order a Magna with a 3-liter V6.
As the car slid into its third and final generation in 1996 the choice of engine for the luxury trim was expanded to include the 3-liter and a slightly larger 3.5-liter V6 too.
This third generation also introduced buyers to an all-wheel-drive "Quadtec" option for the first time.
Mitsubishi intended on using its recently acquired rally wins to market four-wheel-drive versions of their cars such as this and Lancer.
Eventually, in 2005 the Mitshubishi Magna was discontinued in favor of the short-lived 380 model that was closely based on a late Galant.