Chevrolet Trailblazer Service Manuals
---
You can find 6 different repair/service/workshop manuals for the Chevrolet Trailblazer on this page that are in the PDF format, totally free of charge.
The years available stretch from 2002 through to 2007 and to view the manual you just click the name.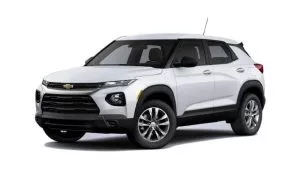 About The Chevrolet Trailblazer
The Trailblazer name was first used by Chevrolet as a trim for the S-10 Blazer compact and mid-size SUV.
It was an upscale version of the 4-door compact SUV for the years 1999 and 2000 that featured a CD player and color-coded bumpers.
Other features on the Trailblazer version include a leather-wrapped steering wheel and air-conditioning, outside were upgraded alloy wheels to distinguish the variant.
In the 2001 model year, the trim for the Blazer was dropped and now the nameplate was applied to its own model line.
This new model was built on the GMT360 platform that is shared with the Buick Rainer, GMC Envoy and Chevrolet Colorado.
It featured independent suspension all around the car with an optional upgradable locking differential system for those planning on leaving the road and experiencing loss of traction.
Most of the engines were V8s but a V6 option was available with all of these being mated to a 4-speed automatic transmission.
Buyers were given customization options through the way of trims for the Trailblazer, which included the LS, LT, LTZ and SS (Super Sport).
The LTZ was the top of the range line for the SUV and bore features such as a DVD player for the rear seats and a power sunroof.
It was seen as a success as the Chevrolet Trailblazer went on to sell over 250,000 in the USA alone for two years in a row.
In the 2009 model year, the last examples of the car were sold in the USA with Chevrolet instead shifting focus to their Traverse project.
The Trailblazer was revived in 2011 for a second generation but only in emerging markets such as Brazil and Thailand.
This revived model for those markets was only slightly improved and the engine options were revised downwards in size and new diesel options added.