Honda Accord Service Manuals
---
You can find 4 different repair/service/workshop manuals for the Honda Accord on this page that are in the PDF format, totally free of charge.
Yearly Accord Service Manuals
The years available stretch from 1997 through to 2010 and to view the manual you just click the name.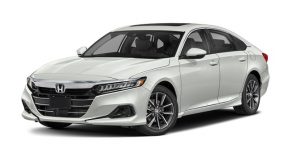 About The Honda Accord
The Honda Accord started out life in the mid-1970s as a compact car that was known locally in Japan as the Inspire.
A reshuffle of the Honda range in the late-1980s saw the Accord be reclassified as a mid-size car and the Civic grew from a subcompact to take the compact slot that was now vacant.
The Japanese automaker has pushed the car to the edge of what the American government considers a mid-size car ever since.
Over the ten generations since the car was first introduced it has been seen mainly as a 4-door sedan but has also been available as a 5-door station wagon, a 3-door hatchback and a 2-door coupe.
During the mid-1990s Honda also used the Accord platform for their compact minivan (the Odyssey) that they saw massive success with during its second generation (2000-2005).
Honda also marketed a more luxurious version of the car through its luxury Acura brand as the TSX and then later as the TLX.
The TLX/TSX is bundled with many more features as standard with a more premium finish both inside and outside of the car.
In 1982 the Accord was the first car from the company that was manufactured within the United States to serve the hugely lucrative market.
Modern Accords
Modern examples of the car are among the tenth-generation of design that first came in during the 2017 model year.
You can only buy these modern versions of the car as a 4-door sedan with the choice of several different gasoline engines with and without hybrid technology.
Choice of transmissions includes a CVT, a 6-speed manual and a 10-speed automatic available only on the 2-liter turbocharged version.
This new Honda Accord boasts a much lighter body that takes advantage of high-strength steel and a lot more aluminum than previous models.
Another massive positive for this new model is the perfect score that is achieved with the NHTSA crash testing agency.
The 2018 Accord was awarded 5 out of 5 stars for every discipline the agency threw at it and in 2019 was awarded the title of "Top Safety Pick".